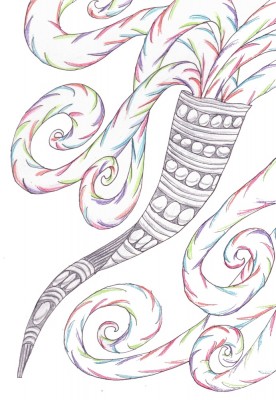 NefeshSoul High Holy Day services are musical, meaningful, and filled with inspiring moments. Our staff and volunteers dedicate months planning and rehearsing, to ensure that we observe these Days of Awe with the honor they deserve.
You are invited to join us for our High Holy Day services. Tickets are not needed; however, we ask for a generous High Holy Day contribution. Contribution levels are suggested below. We depend on your generosity.
All services are held in Valley Unitarian Congregation's sanctuary. 6400 W. Del Rio St. Chandler, 85226.
High Holy Day Suggested Contribution and Category Levels (Per Adult over 25)
Apples and Honey:   $100
Pomegranate:            $250
Shofar:                          $500
Kol Nidre:                     $750
Book of Life:              $1000
Watch for:
Yizkor memorial names on slides to be shown before the Yizkor service on Yom Kippur
Rosh Hashanah Day and Yom Kippur Adult Choir
Use our mail-in High Holy Day Donation form to send us any memorial names (due by Sun., Sept. 16.)
High Holy Day Contributions can also be made online. Be sure to include your memorial names in the message section.

Service Schedule:
Selichot
Sat.
Sept. 1
7:00pm
Erev Rosh Hashanah
Sun.
Sept. 9
7:30pm
Rosh Hashanah Day
Mon.
Sept. 10
10:00am
Rosh Hashanah Children's Program
Mon.
Sept. 10
During morning service
Tashlich
Mon.
Sept. 10
12:30pm at a nearby lake
Rosh Hashanah No Host Lunch
Mon.
Sept. 10
1:00pm at Jason's Deli (Ray and 54th St.)
Kol Nidre
Tues.
Sept. 18
7:30pm
Yom Kippur Morning
Wed.
Sept. 19
10:00am
Yom Kippur Children's Program
Wed.
Sept. 19
During morning service
Yom Kippur Yoga
Wed.
Sept. 19
12:45pm
Yom Kippur Healing Service
Wed.
Sept. 19
2:15pm
Yom Kippur Jonah Reading
Wed.
Sept. 19
3:30pm
Yom Kippur Afternoon Service
Wed.
Sept. 19
4:00pm
Yom Kippur Yizkor
Wed.
Sept. 19
4:45pm
Yom Kippur Ne'ilah
Wed.
Sept. 19
5:15pm